Training Support Services & Fees
INDIVIDUAL COACHING: £30 PER MONTH – WHAT DOES THIS INCLUDE?
Assistance with goal setting and identifying and implementing a training strategy and training approach – This could be for a specific event, a season, or just general improvement.
Training plans – Customised to individual goals and circumstances and adapted continuously depending on training and racing feedback. For a single month's payment I can do an outline plan for an event and a detailed plan for a month. 
Continuous monitoring, feedback and advice – using which ever communication channels suit you. Weekly online catch-ups, or telephone chats 
Regular face-to-face meetings and 1-2-1 coached training sessions – if based in the North Staffordshire area, or telephone or online chats if not.
Promotion and publicity (only if wanted) as an HPR Training Group team member – via the HPR website and social media.
No minimum contract period – Monthly payment by electronic bank transfer is preferred but happy to discuss other arrangements.
N.B Only individual coaching has a fee – HPR Group training sessions at locations in North Staffordshire are free to anyone, subject to availability, but a contribution would be appreciated! 
WHY USE ME AS YOUR RUNNING COACH?
Knowledge and experience – I've been a dedicated and serious runner for more than 40 years and for the past 14 years I've also been a qualified and CRB checked UKA level 2 endurance coach and have coached runners to success across all running events from 800m, cross country, mountain running to ultra distance up to International level.
Continuous record of success – I've coached runners from beginners to internationals including national ultra road and ultra trail champions, a GB senior mountain running international, England senior and junior cross country internationals, a World Masters track medallist and Masters national champion, area and county cross country champions, many local league overall and age-group champions and winners, and helped countless runners at all levels to achieve personal bests and great results.
Focus on individual training – I'll work with you to find a training approach to achieve your best possible result. Everyone has a slightly different physiology, and usually very different circumstances and goals – one single approach does not fit all but I do apply overriding principles. 
Focus on keeping running injuries to a minimum – I always apply a gradual increase in training load and plan for recovery. A small amount of carefully targeted supplemental strength and conditioning training is important but I put a strong emphasis into and teach running with good technique which I believe is even more important for the majority of runners. I have extensive experience of helping runners return to training from long term injuries and breaks in training. 
I am friendly and approachable at all times – I am only a message or phone call away and always available for a chat.
I am independent of any athletics or running club – I will not try to recruit you for a move to another club.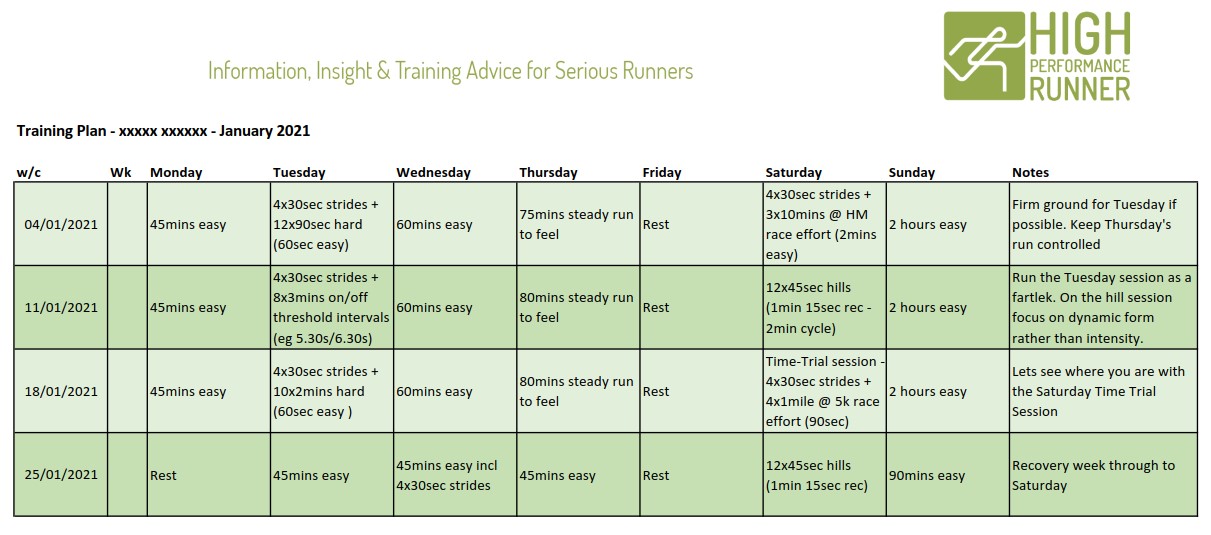 If you would like to discuss in more detail how I can help you with individual coaching please contact me via the TRAINING ADVICE link at the top of this page or via the HPR Facebook page – There is no charge for an initial electronic discussion, telephone call, meeting or run chat.